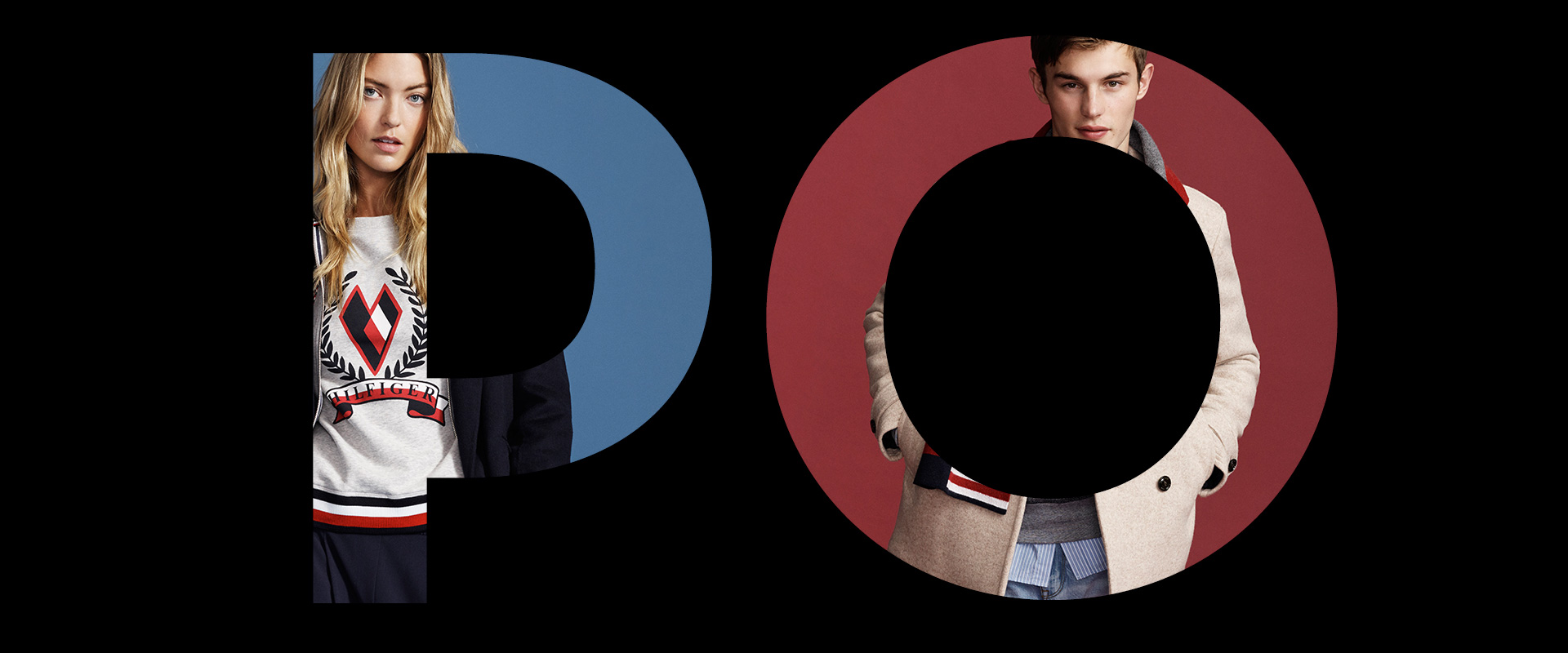 PROJECT: POLITIKOS DEPARTMENT STORE MAGENTO ECOMMERCE WEBSITE
The appeal of the modern department store is undeniable: It offers the customer a fine presentation of all current trends in fashion, cosmetics, homeware, in just one place. It really was the retail disruption at the time, a very successful one, to be accurate, since people favor the big department stores to date. But the retail disruption of our digital era is online shopping. Politikos Department Store, being the successful retailer that it is, could not miss it, of course, and decided it was time it entered the digital shopping world, by launching its own eCommerce website.
COMMA provided its expertise. Given the brand's values and 40-year old history, our goal when designing and developing its digital retail presence was much more than creating just another eCommerce Website. We had to be aligned with the Politikos' philosophy on excellent customer service and with the concept of the "shopping destination" that Politikos is identified with. We had to create a digital shopping destination for the particularly wide target audience the Department Store already had – which, apart from the young internet-savvy clientele, includes people that are used to conventional retailing. More specifically, we had to
– Develop an eCommerce website that would stand out as a unique shopping experience destination
– Emphasize on the customer-centered philosophy by adding functional, user-friendly features
– Keep in mind the vast variety of the company's merchandise mix with multiple brands
– Design a look that reflects the store's elegant, refreshed brand identity
OUR APPROACH:
– Customized Magento implementation that guarantees absolute reliability
– Top of the class UX with user-friendly filtering features
– Mega Menu/ Large, rectangular menu group to enable navigation option and eliminate scrolling and usage of typography, icons, and tooltips to explain users' choices
– Brands page with multiple filtering options for various product categories
– Clear and functional product listing & categorizing
– Simple purchasing process, from account creation to checkout, with the One Page CheckOut
– Responsive design for easy shopping through all devices
– ERP [Atlantis] Integration with automatic stock update
– Newsletter MailChimp integration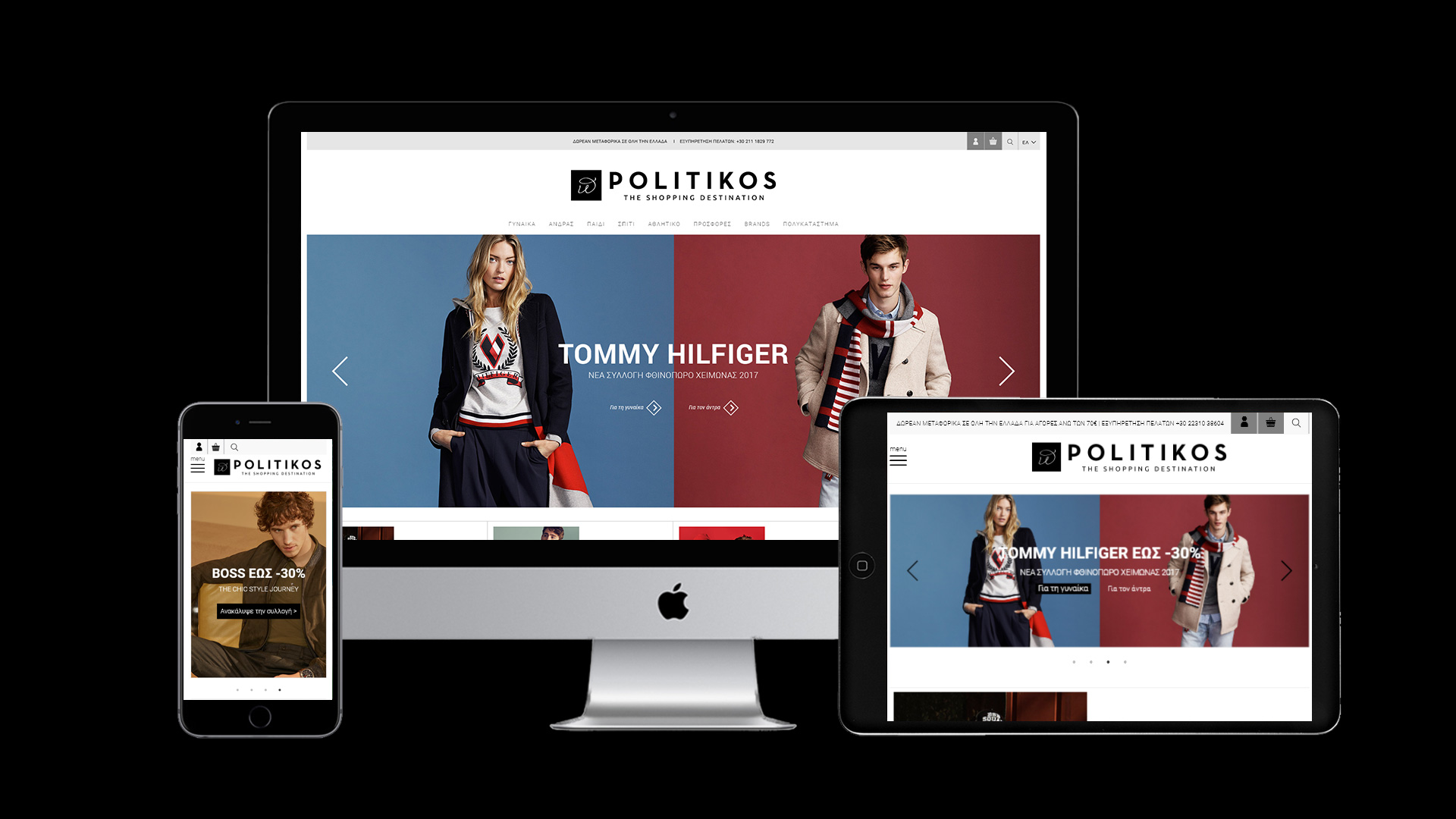 Img 1 – Responsive design to browse and shop from every device
Img 2 – Large, simple-to-use menu for easy navigation & Product Recommendations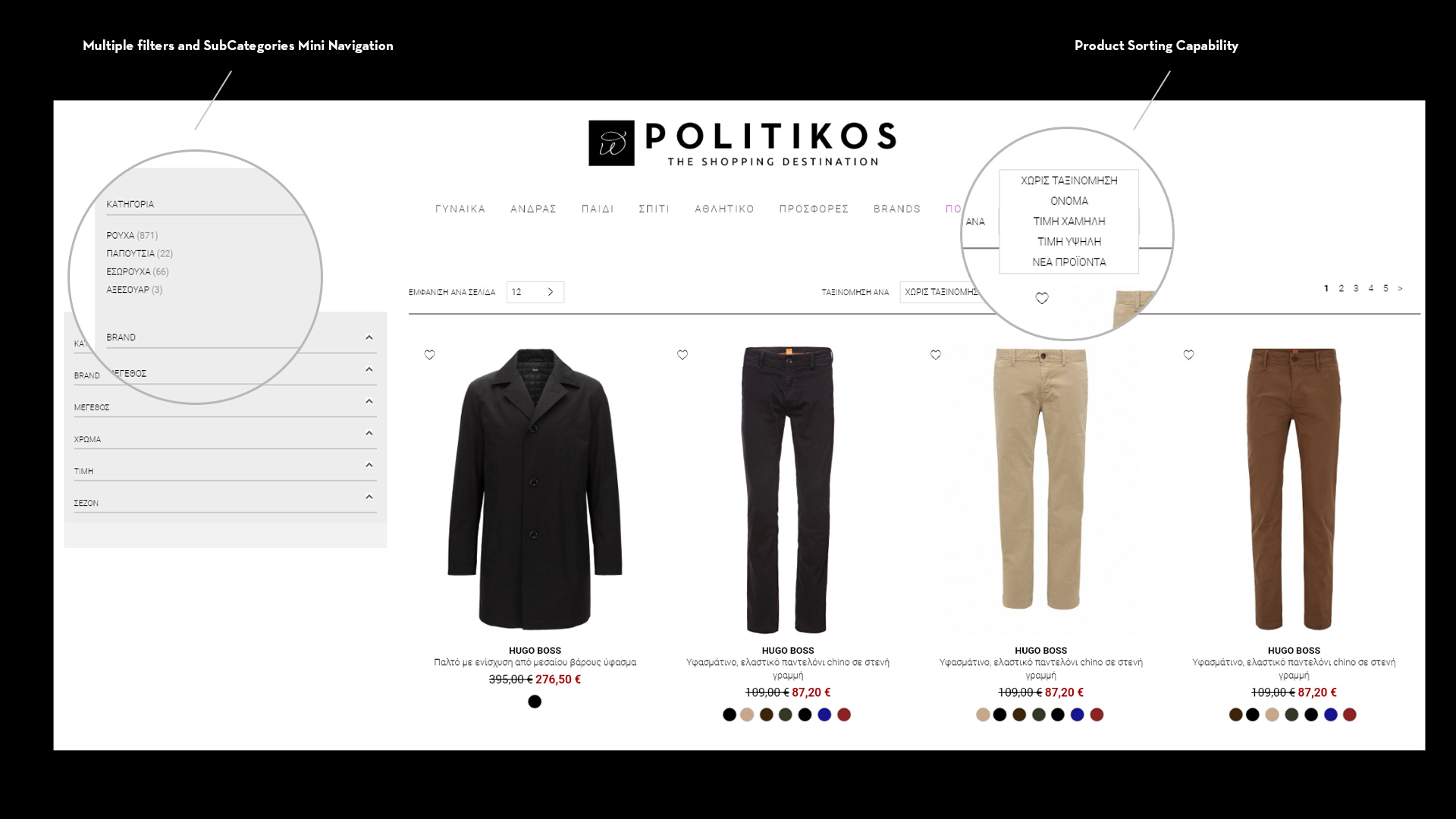 Img 3 – Ajax Layered Navigation for fast filter application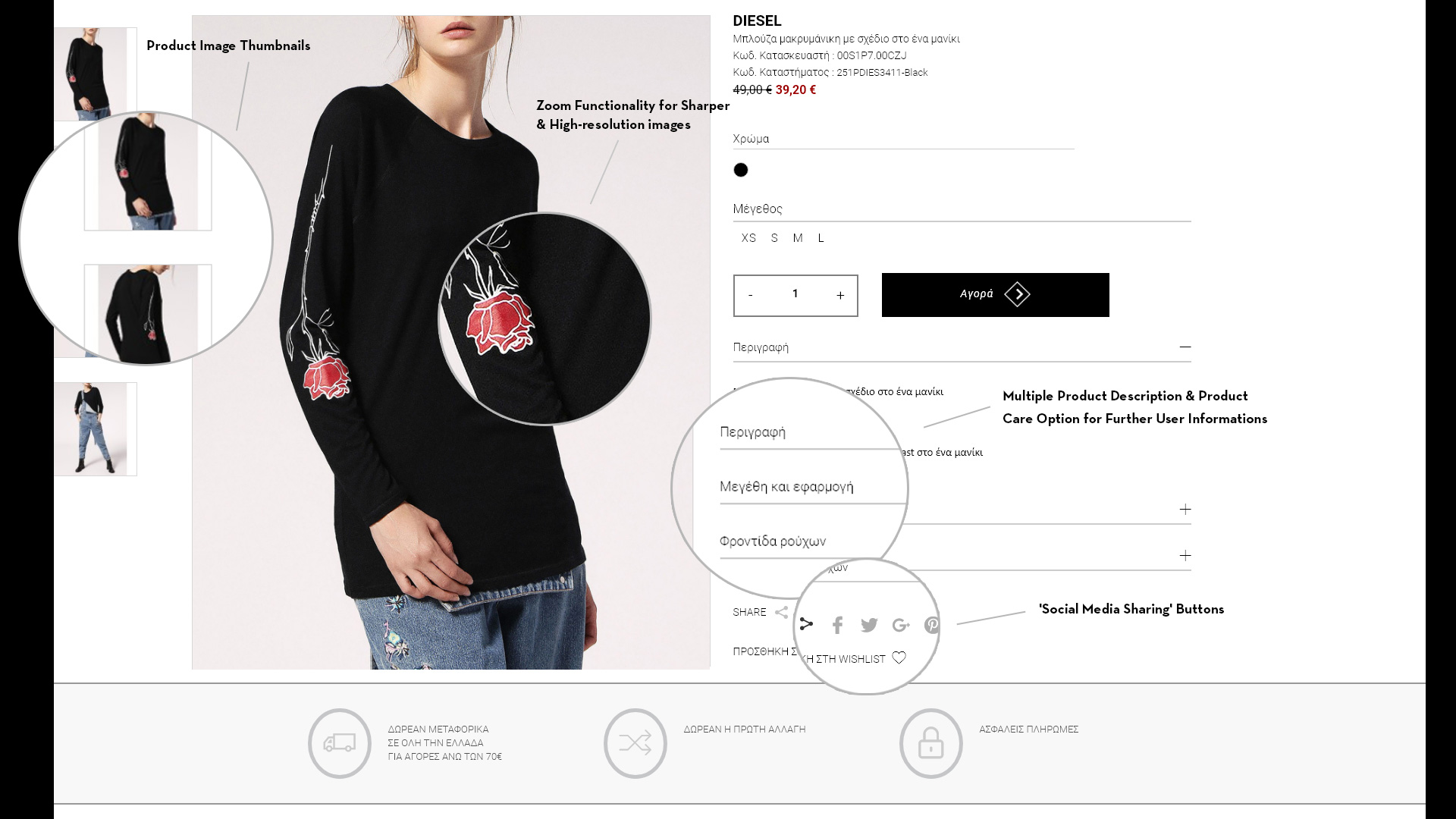 Img 4 – Functional product page with product thumbnails, high density zoom imagery and social media sharing buttons
RESULT:
The brand new Politikos Magento eCommerce website is actually more than just the digital presence of a conventional store; it is the next step in the history of the Politikos Department Store. We managed to design and develop the digital version of the successful department store, combining the functionality of the familiar shop-in-shop experience with the simplicity of a friendly and reliable eCommerce website, and without failing to highlight the brand's timeless philosophy.
Designed with the diversity of the customer base in mind, the new Politikos store welcomes its vast, already existing clientele; but it also expands its target audience, because going digital means overcoming the physical barrier of locality. In short, more people can visit the Politikos shopping destination, select from its huge collection of fashion, sport and homeware brands and shop. It is thus pretty safe to say that a bright digital retailing future is ahead for Politikos. More at www.politikos-shop.gr