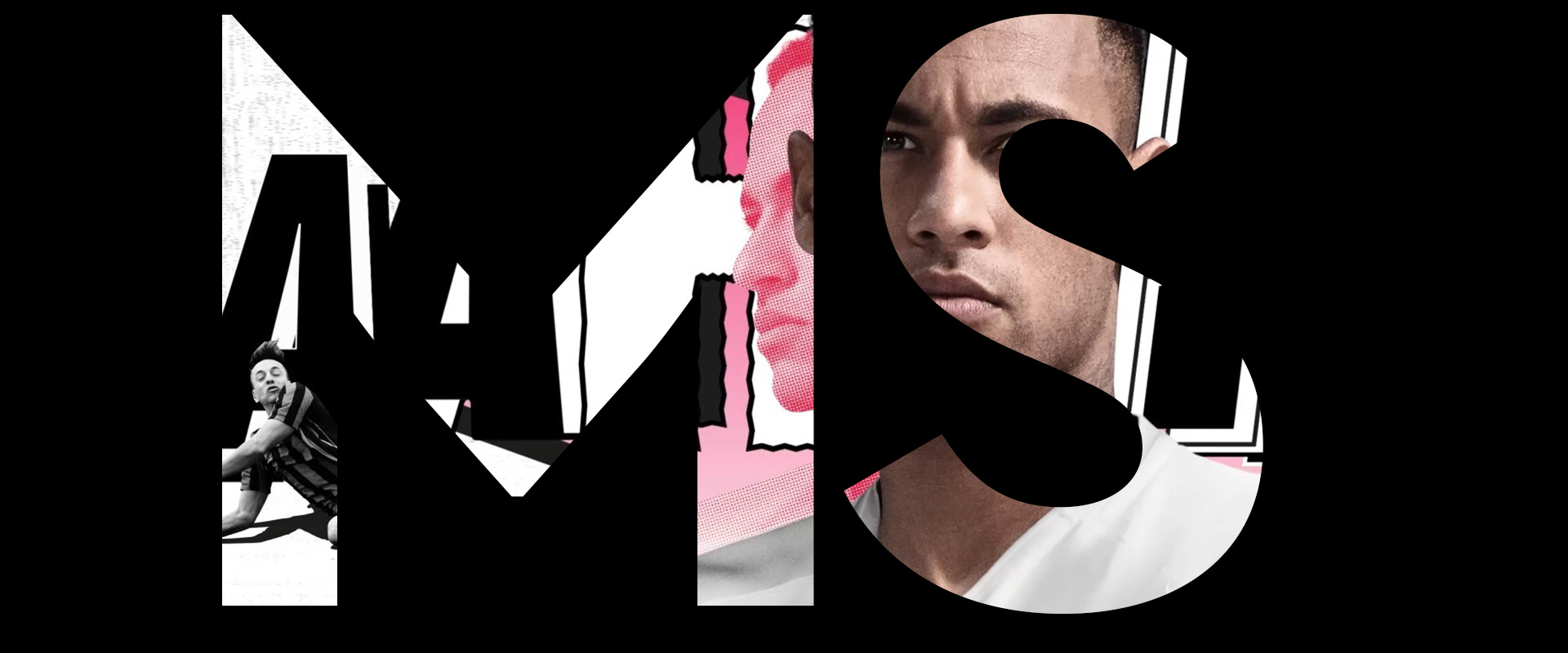 PROJECT: MANDELLOS SPORT
Sensing customers' needs and desires shifting, Mandellos Sports Company felt it was time they aligned with the modern era of shopping.
But the Sport & Fashion retailer was not in need of an ordinary eShop. The company asked for a digital shopping tool that would mirror its philosophy: 'Top quality products that are offered along with excellent customer service'.
THUS OR TASK WAS TO:
– Create a Bespoke eCommerce Website that delivers great shopping experience
– Add functional features with a user-friendly, purchase-easy approach
– Keep in mind the target-audience's love for mobile technology
– Design a captivating look that represents the company's style and elevates the overall User Experience
OUR APPROACH
– Customized Magento implementation for the perfect combination of reliability and UX
– Multiple user-friendly filtering features
– Easy purchasing process (One Page CheckOut with easy process for Account creation, Payment & Checkout)
– Responsive design for ultimate User Experience through all mobile devices
– ERP Integration with automatic stock update
– Newsletter MailChimp integration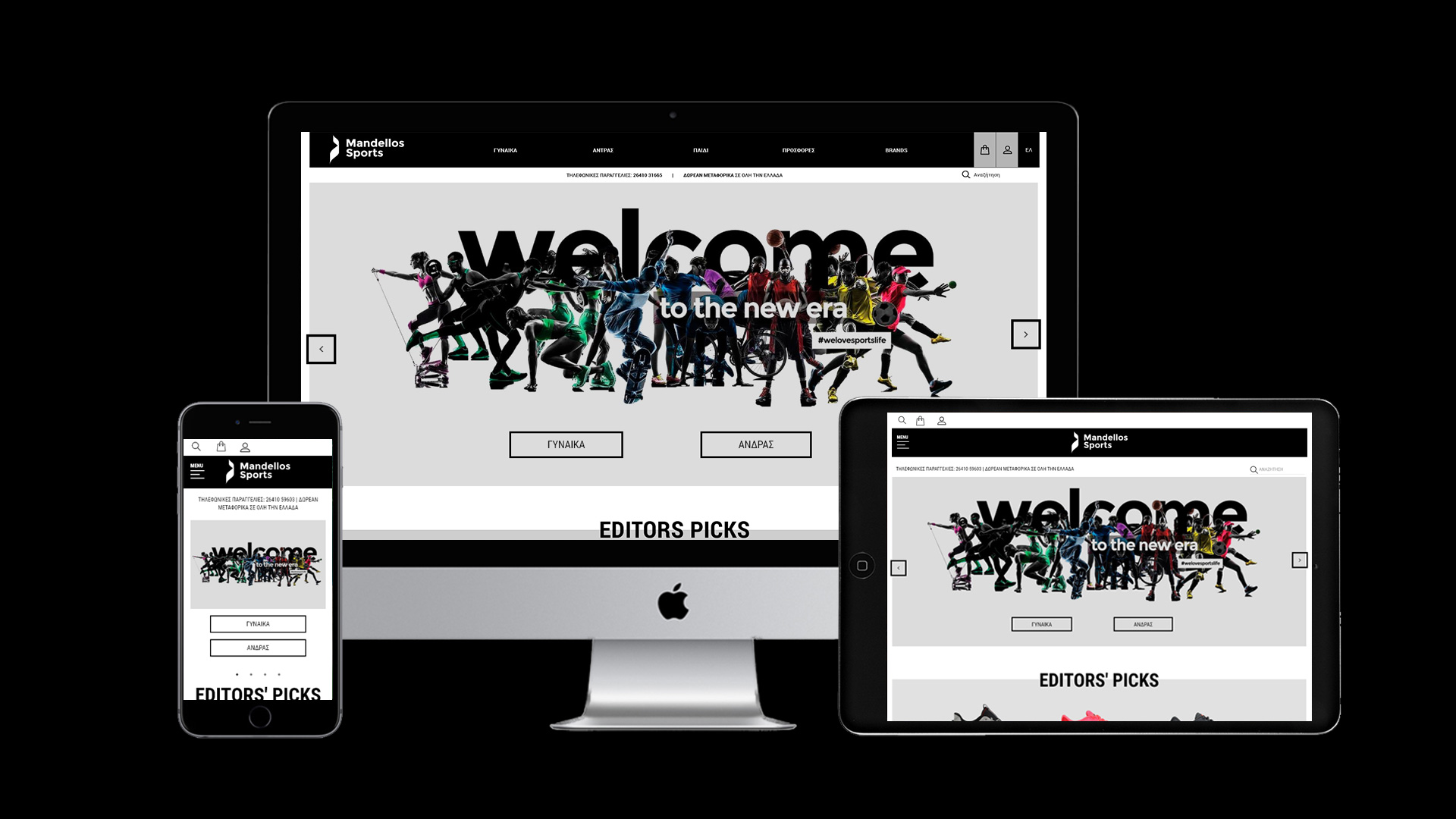 Easy access from every device with responsive design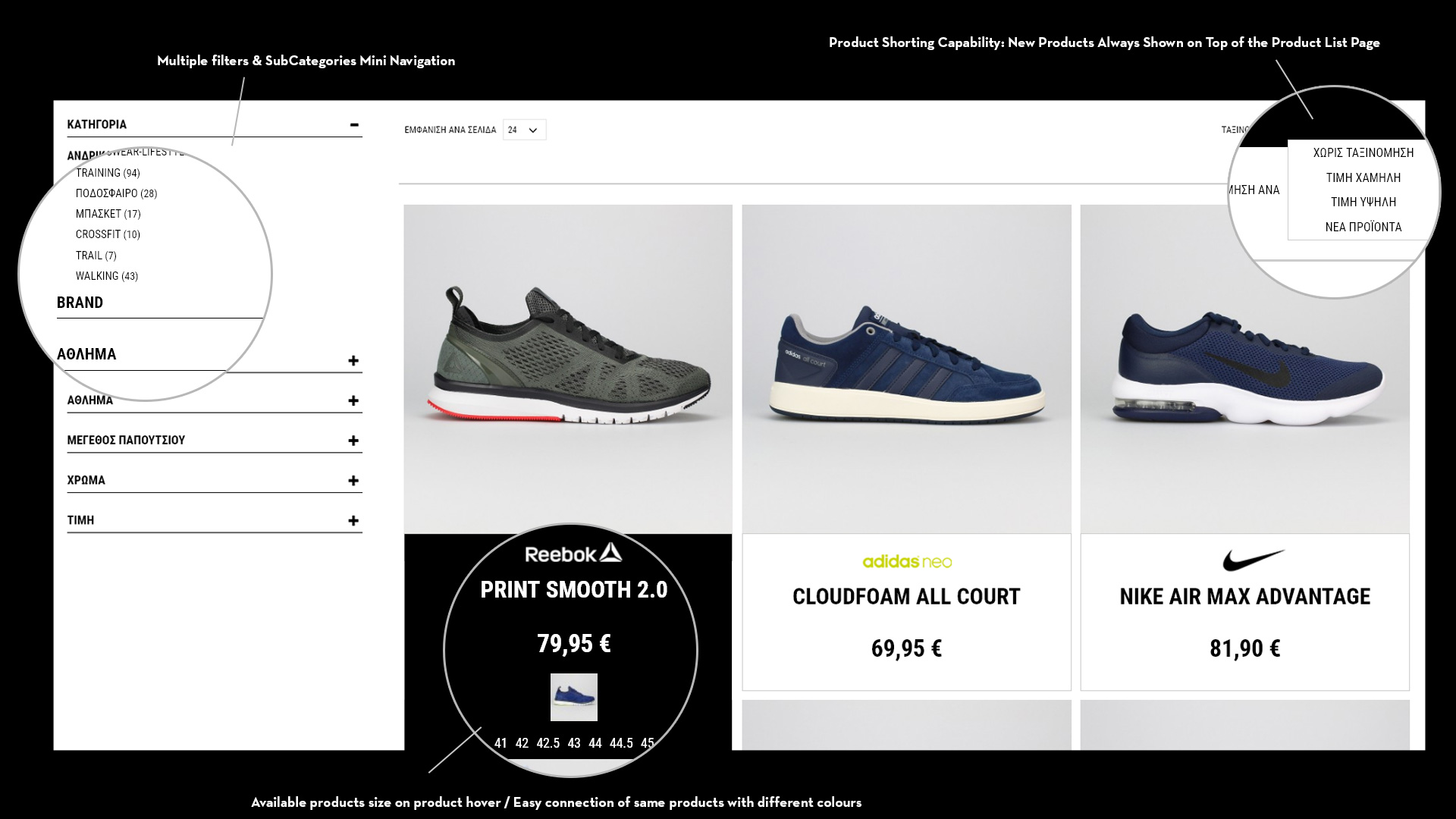 Ajax Layered Navigation for faster filter application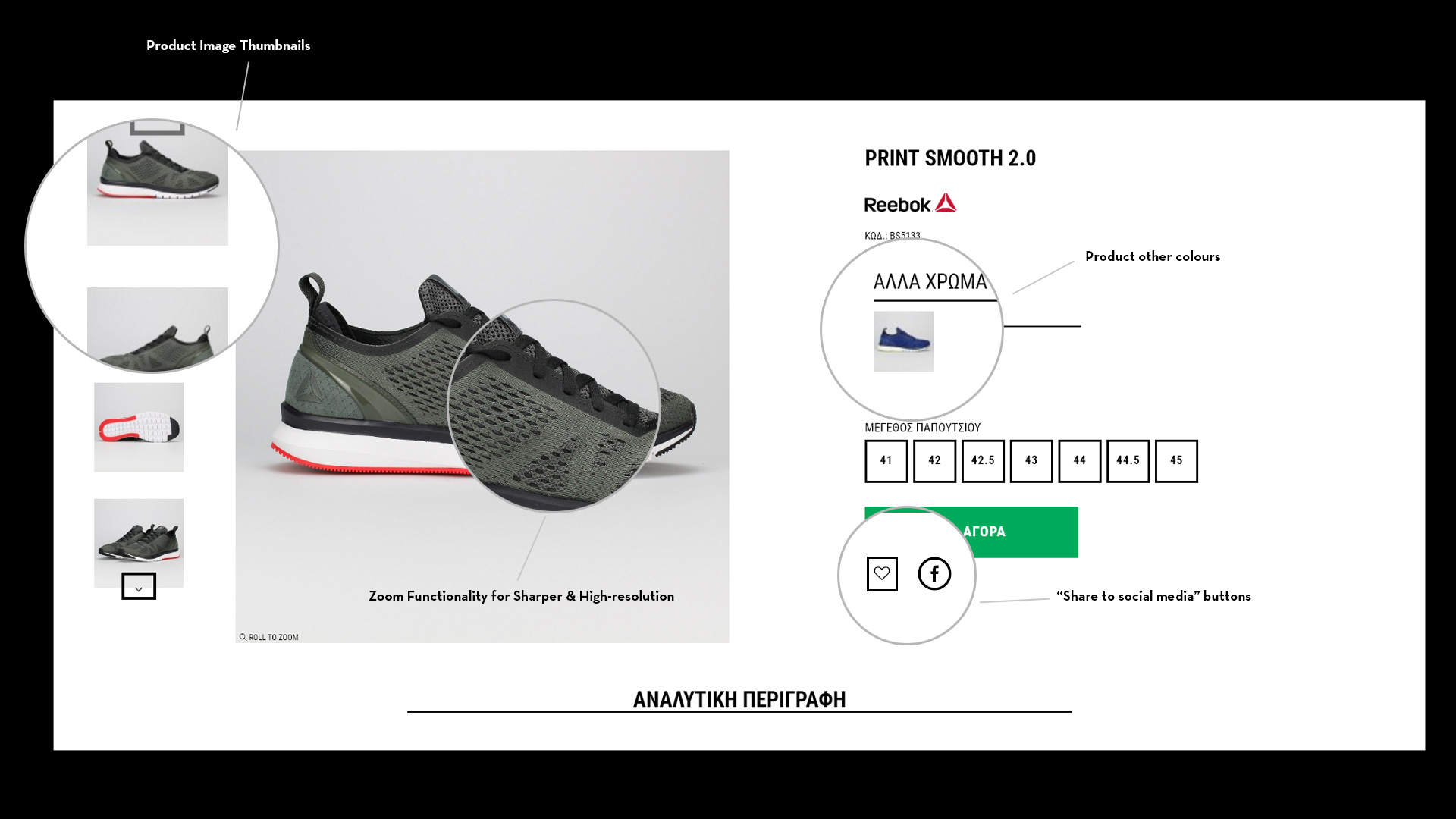 Functionable product page with multiple product thumbnails, high density zoom imagery and social media sharing buttons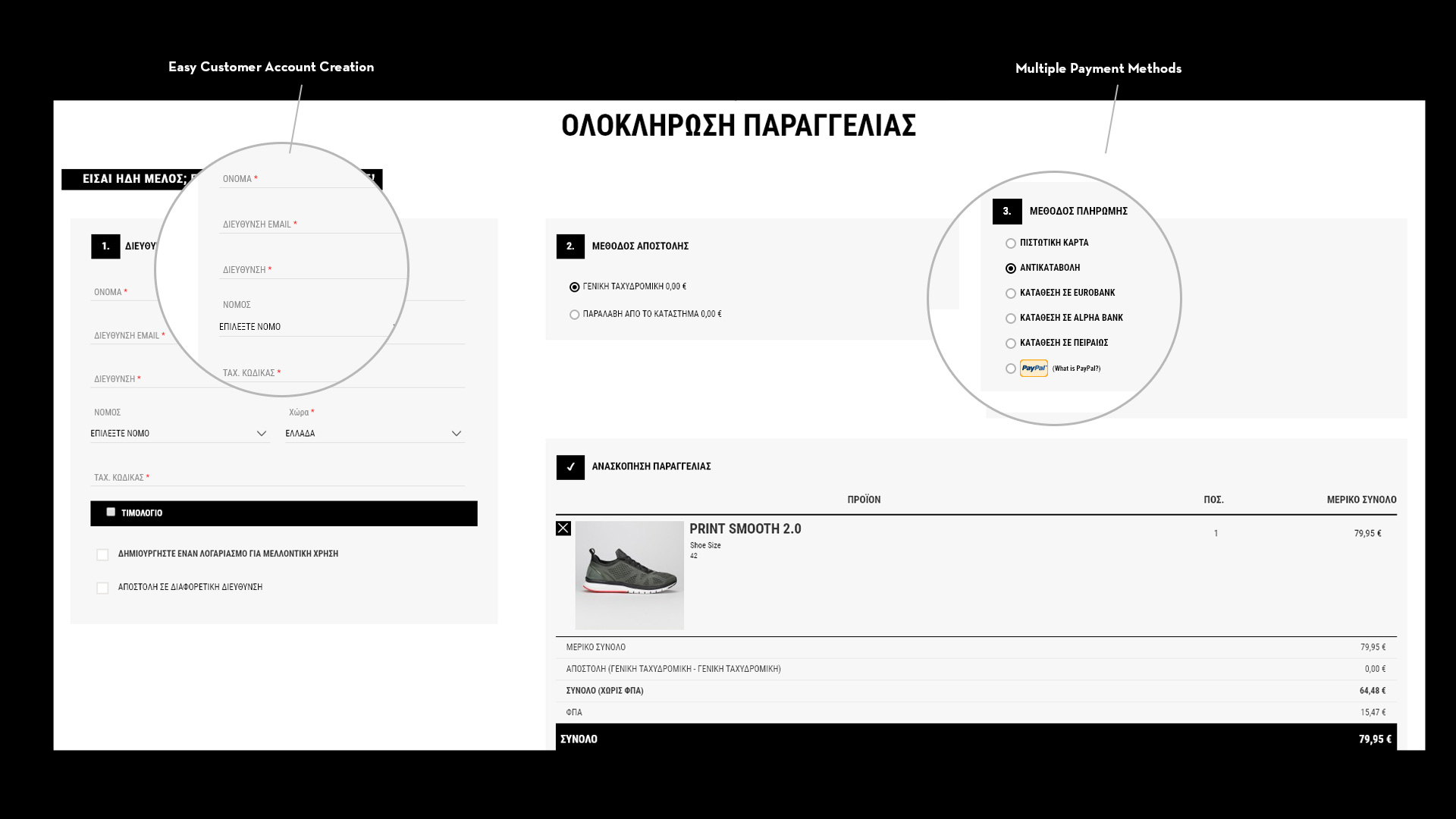 Simple, one step order placement & checkout
RESULT:
The launch of its new eCommerce website was a significant point in the long Mandellos Sports Company history. Mandellos Sports proved it is a modern retail company, always in touch with its clientele and in full alignment with the contemporary shopping tendencies and the latest technologies. COMMA created an exemplary website, infused with the timeless, fundamental, customer-first principles that Mandellos Sports values. Every visit is now more likely to end with a purchase, since the users can easily find precisely what they need, select from a huge high-end brand collection, see every little detail of the items and shop via a quick'n'easy checkout procedure. Its responsiveness makes it popular amongst the younger shoppers, who tend to be sporty style & athletic lifestyle afficionados and are therefore an important target audience.
At the end of the day, it is safe to say that the new Mandellos Sports eShop is actually much more than the digital boutique of the company; it is the website that re-defined the brand's identity.
For more info feel free to check out the Mandellos Sport Website Live: www.mandellossports.gr